TA Hosts Inaugural Portfolio M&A Conference
BOSTON, October 28, 2022 - TA Associates ("TA"), a leading global growth private equity firm, was proud to recently host its inaugural Portfolio M&A Conference in Boston, MA. The event brought together more than 120 executives from the Firm's portfolio companies, alongside members of TA's investment staff and Strategic Resource Group (SRG).
The one-day Conference fostered a unique opportunity for knowledge-sharing and networking, allowing attendees to interact with the collective TA community through curated informational sessions and group activities. Meetings were led by seasoned executives from across the TA portfolio, with content focusing on ways to drive value and accelerate growth through strategic acquisitions.
Speakers presented case studies and led roundtable discussions that showcased their company's M&A journey, highlighting best practices and lessons learned. Topics included, among others, an overview of M&A in the TA portfolio, a discussion on the art of the deal, and ways to make the deal a win post-close. The event wrapped up with a fireside chat between TA Director Mike Libert and William Thorndike, author of the bestselling playbook, "The Outsiders – Eight Unconventional CEOs and Their Radically Rational Blueprint for Success."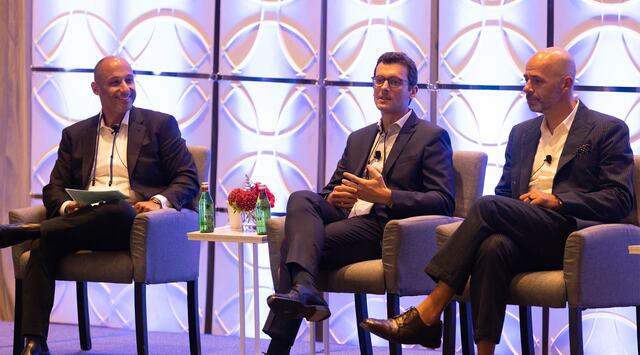 About TA
TA is a leading global growth private equity firm. Focused on targeted sectors within five industries – technology, healthcare, financial services, consumer, and business services – the firm invests in profitable, growing companies with opportunities for sustained growth and has invested in more than 560 companies around the world. Investing as either a majority or minority investor, TA employs a long-term approach, utilizing its strategic resources to help management teams build lasting value in high quality growth companies. TA has raised $48.6 billion in capital since its founding in 1968. The firm's more than 110 investment professionals are based in Boston, Menlo Park, Austin, London, Mumbai and Hong Kong. More information about TA can be found at www.ta.com.