TA Ranked #1 on GrowthCap's "Top Private Equity Firms of 2023" List
BOSTON, MA – TA, a leading global private equity firm, is honored to be ranked #1 on GrowthCap's "Top Private Equity Firms of 2023" list.
This year's nominees underwent a rigorous selection process. Each firm was evaluated on factors beyond financial capital, including firm culture, overall growth and performance, portfolio company value creation and commitment to ESG, among other capabilities. Those selected were chosen from hundreds of nominees and were deemed by GrowthCap as "the best private equity firms at scaling companies."
See the full list of winners and learn more about the selection criteria and methodology on GrowthCap's website.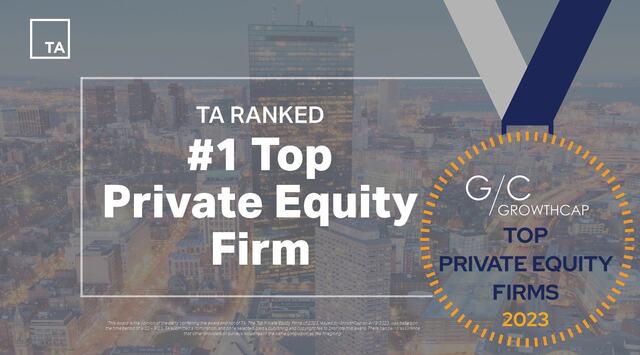 About TA
TA is a leading global private equity firm focused on scaling growth in profitable companies. Since 1968, TA has invested in more than 560 companies across its five target industries – technology, healthcare, financial services, consumer and business services. Leveraging its deep industry expertise and strategic resources, TA collaborates with management teams worldwide to help high-quality companies deliver lasting value. The firm has raised $65 billion in capital to date and has over 150 investment professionals across offices in Boston, Menlo Park, Austin, London, Mumbai and Hong Kong. More information about TA can be found at www.ta.com.
This award is the opinion of the party conferring the award and not of TA. The Top Private Equity Firms of 2023, issued by GrowthCap on 9/19/2023, was based on the time period of 9/22 – 9/23. TA submitted a nomination, and once selected, paid a publishing and copyright fee to promote this award. There can be no assurance that other providers or surveys would reach the same conclusion as the foregoing.