TA Named to Mergers & Acquisitions' "Best Places to Work in Private Equity" List
BOSTON, MA – TA, a leading global private equity firm, is honored to be selected as one of Mergers & Acquisitions' "Best Places to Work in Private Equity."
The award honors private equity firms who stand out amongst their peers in demonstrating leadership and innovation in their workplace cultures, policies and internal operations. Additionally, the list highlights firms who have taken proactive measures to adapt to the changing demands of a post-pandemic world and have successfully implemented environmental, social and governance (ESG) and diversity, equity and inclusion (DEI) programs internally and within their investment processes.
At TA, we are dedicated to promoting career development, encouraging mentorship and fostering a collaborative environment that empowers professionals at all levels to succeed. We are proud to be recognized for our culture of meritocracy and entrepreneurial hustle, and congratulate our peer honorees.
To view the full list of honorees and read more about the selection methodology, visit Merger & Acquisitions' website.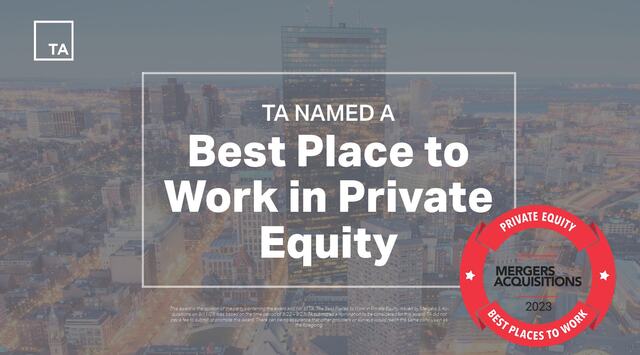 About TA
TA is a leading global private equity firm focused on scaling growth in profitable companies. Since 1968, TA has invested in more than 560 companies across its five target industries – technology, healthcare, financial services, consumer and business services. Leveraging its deep industry expertise and strategic resources, TA collaborates with management teams worldwide to help high-quality companies deliver lasting value. The firm has raised $65 billion in capital to date and has more than 150 investment professionals across offices in Boston, Menlo Park, Austin, London, Mumbai and Hong Kong. More information about TA can be found at www.ta.com.
This award is the opinion of the party conferring the award and not of TA. The Best Places to Work in Private Equity, issued by Mergers & Acquisitions on 9/11/23, was based on the time period of 9/22 – 9/23. TA submitted a nomination to be considered for this award. TA did not pay a fee to submit or promote this award. There can be no assurance that other providers or surveys would reach the same conclusion as the foregoing.