TA Hosts Europe Tech Sales Summit
LONDON, APRIL 27, 2023 – TA Associates (TA), a leading global private equity firm, was proud to host a Europe Tech Sales Summit in its London office recently. The event, facilitated by TA's Strategic Resource Group (SRG), brought together C-suite executives and senior sales professionals from TA's European Technology portfolio, including Adcubum, Chaos, Cyncly, ITRS, Priority Software, The Access Group and Unit4, among others.
Executives from The Access Group, including Chris Bayne, Chief Executive Officer, Jon Jorgensen, Chief Sales Officer and Alex Reeves, Group Revenue Operations Director, led the one-day conference, sharing their experience creating a world-class go-to-market (GTM) engine. They provided an overview of The Access Group's proven sales structure, outlining key strategies the management team has implemented to optimize performance and ensure consistent revenue growth since partnering with TA in 2015.
"Throughout The Access Group's more than seven-year partnership with TA, we have made massive progress against our growth strategy," said Jon Jorgensen. "Our powerful sales engine and innovative GTM strategy have been critical to this success. We were proud to share our growth story with the many forward-thinking executives and are thankful for TA's longstanding support."
Attendees took the opportunity to connect and network with other European technology companies within TA's portfolio, exchanging experiences with those who share similar GTM objectives for 2023.
The group engaged on their ways of working, key principles, and business rhythms, highlighting learnings that can be transferred across companies. Topics of discussion included managing and motivating high-performing sales teams, strategically aligning digital marketing and sales engines, ways to leverage sales data and metrics, and the importance of integrating strategic acquisitions.
"The Tech Sales Summit provided a unique opportunity for like-minded executives within TA's portfolio to share best practices in an intimate setting," said Akshay Srimal, a Director in the Strategic Resource Group at TA. "Establishing a successful GTM strategy is essential to driving company growth, and TA is pleased to provide our portfolio companies with the resources to enhance their commercial engine. We are thankful to the leaders from The Access Group for sharing their inspiring journey and to the attendees who made the event a great success."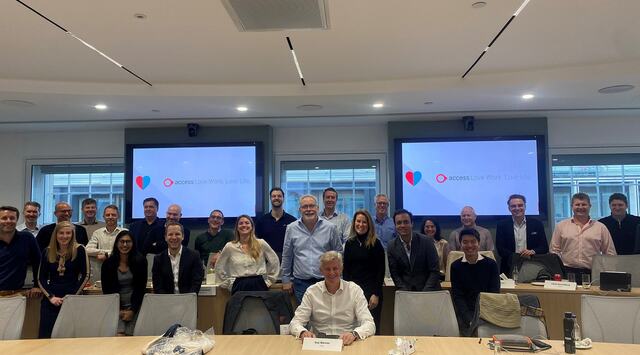 About TA
TA Associates (TA) is a leading global private equity firm focused on scaling growth in profitable companies. Since 1968, TA has invested in more than 560 companies across its five target industries – technology, healthcare, financial services, consumer and business services. Leveraging its deep industry expertise and strategic resources, TA collaborates with management teams worldwide to help high-quality companies deliver lasting value. The firm has raised $48.6 billion in capital to date and has more than 150 investment professionals across offices in Boston, Menlo Park, Austin, London, Mumbai and Hong Kong. For more information, visit www.ta.com.