Four TA Portfolio Companies Named to The Software Report's "Top 100 Software Companies of 2023" List
BOSTON, MA – TA, a leading global private equity firm, is proud to announce that The Software Report has named IFS, Ivanti, Planview and Unit4 to its fourth annual "Top 100 Software Companies of 2023" list.
TA is proud to have four portfolio companies recognized for their industry leadership, commitment to excellence and dedication to providing exceptional customer value.
To view the full list of honorees and read more about the selection process, visit The Software Report's website.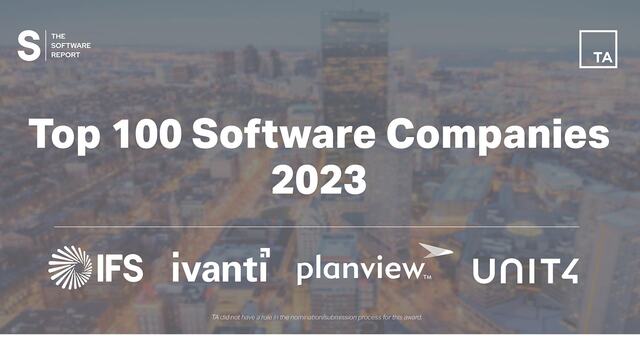 About TA
TA is a leading global private equity firm focused on scaling growth in profitable companies. Since 1968, TA has invested in more than 560 companies across its five target industries – technology, healthcare, financial services, consumer and business services. Leveraging its deep industry expertise and strategic resources, TA collaborates with management teams worldwide to help high-quality companies deliver lasting value. The firm has raised $65 billion in capital to date and has over 150 investment professionals across offices in Boston, Menlo Park, Austin, London, Mumbai and Hong Kong. More information about TA can be found at www.ta.com.
TA did not have a role in the nomination/submission process for this award.